Rail
Railroads are a vital component of the worldwide supply chain. They are also used extensively for transportation in many parts of the world every day. Trains are expected to operate in every environment and weather extreme efficiently and without fail
Crisscrossing Every Environment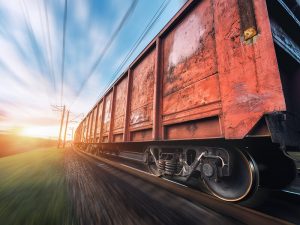 There are around 150,000 miles of rail track crisscrossing the nation (more than 1.4 million miles worldwide) in nearly every city and town, over rivers, streams, fields, forests and all manner of topography. Thousands of trains operate on these passageways day and night 365 days a year. Moving millions of tons of materials, products, and people efficiently and safely, not only for operators and passengers but also the environment, is a tough task requiring a high level of coordination and extremely well maintained equipment. Failures of any kind can cause massive financial losses, injury to passengers or employees and damage to the environment.
Minimize Environmental Exposure
Recognizing the fact that accidents can happen anywhere, and the importance of minimizing the impact of such events, BioBlend has created a series of environmentally responsible lubrication products for the Rail industry. These lubricants include products that have direct contact with the environment, and other products that if leaked, will be minimally toxic and biodegradable. BioBlend's Rail solutions consists of a variety of high performance environmentally sound products such as:
Degreasers
Gear Oils
Greases
Hydraulic Fluids
Multi-purpose oils
You can count on BioBlend to keep your Rail operations running smoothly and a little more quietly with our high quality rail curve grease.
Eco Friendly Rail Curve Grease
BioBlend's flagship rail product is our BioGrease RC 1. Featuring graphite to dampen sound and improve performance, BiGrease RC1 also contains organic friction modifiers and special polymers providing strong adhesion and water resistance. This combination leads to a superb high film strength product that has great anti-wear, load carrying, and low water washout properties. This product is readily biodegradable so its use on rail curves in any environment will not compromise your sustainability efforts and will improve your organization's environmental synergy.
Contact BioBlend Today
Our experts are here to discuss your unique challenges for your particular industry and application. Contact us to find out how you can safely and successfully make the switch to our high-performing, bio-based grease products by completing the form below or calling 800-BIOBLND.
"*" indicates required fields