Wood Products
The wood products industry's stream of production is very direct. Each step of the way the machinery used requires high-performance lubrication products to keep the process flowing. Environmental exposure to the equipment makes it necessary to explore environmentally friendly options that can meet your performance requirements.
Sustainable Performance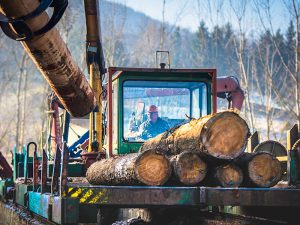 Forestry equipment relies now more than ever on high-performance lubricants as equipment costs and functionality is increasing. BioBlend's proprietary technology has now made it possible to maximize performance while protecting the environment that the industry depends on. Whether working in extreme heat or punishing bitter cold the BioBlend line meets every challenge in a cost-effective manner.
Sustainable Synergy
Renewable, biobased, readily biodegradable, and high-performance hydraulic oils, greases, and specialty products only make sense for an industry that depends on sustainable forestry for their livelihood. Our pragmatic approach to biobased lubrication makes BioBlend the best choice for effective and economic biodegradable lubrication.
Sustainable & Biodegradable Products for All Temperatures
High Performance Hydraulic oils
High performance Greases
Bar & Chain Lubricants
Multi-Purpose Oils
Saw Guide Oil
Contact us today and we will match you up with the best eco friendly performance driven products for your equipment.
Contact BioBlend Today
Our experts are here to discuss your unique challenges for your particular industry and application. Contact us to find out how you can safely and successfully make the switch to our high-performing, bio-based grease products by completing the form below or calling 800-BIOBLND.
"*" indicates required fields