Marine
BioBlend's marine-approved products pass additional certifications based on the lubricant needs of the marine industry. BioBlend formulate each VGP compliant marine product to meet the EPA's EAL requirements without sacrificing performance or cost.
VGP Compliant Lubricants Without Compromise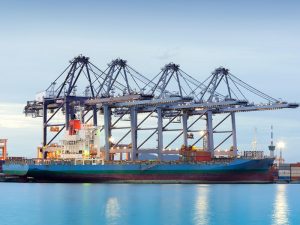 In 2013, the EPA issued its revised Vessel General Permit mandating the use of Environmentally Acceptable Lubricants (EALs) in all oil-to-water interfaces on merchant vessels 79 feet or longer. Since then, a major problem within the marine industry has been finding VGP compliant EALs effective enough to use regularly without harming ship equipment.
BioBlend's proprietary process allows our experts to formulate readily biodegradable  EALs, oils, and greases that meet both the EPA's mandates AND your company's needs. Our biodegradable products aren't just environmentally responsible and fully VGP compliant; they're also effective, performing as well as or better than their conventional counterparts.
What Does bioblend Mean for the Marine Industry?
BioBlend's marine-approved products pass additional certifications based on the lubricant needs of the marine industry. These products meet EPA requirements to be classified as EALs per the 2013 Vessel General Permit (VGP), making them fully VGP compliant. They are also readily biodegradable, minimally or non-toxic, and confirmed water-safe for usage on boat equipment.
Each product category, from our VGP compliant lubricants to our VGP oils and EAL greases is rigorously tested to ensure they perform as effectively if not more effectively than any traditional petroleum-based or synthetic counterpart for all marine applications.
What Marine Products Does BioBlend Offer?
BioBlend has formulated EALs, fluids, oils, and greases for a wide range of marine applications. You can start by finding the category of product you're interested in below:
Hydraulic fluids: including biodegradable anti-wear fluids, semi-synthetic hydraulic fluids, fire-resistant HFDU, sheen-free fluids, BioFLO food grade fluid lubricants, and more. Most EAL fluids are readily biodegradable and all are available in multiple ISO grades.
Gear oils: BioBlend's marine gear oils are biodegradable and formulated for high performance in a wide variety of applications.
Multi-purpose oils: BioBlend MPO is a readily biodegradable, biobased, high-performance, multipurpose lubricant rated for NSF H1 food grade and ideal for use on wire ropes, cables, slides, open mechanisms, and light duty metal cutting and tapping applications.
Greases: including BioGrease HDS XT biodegradable marine grease, an ideal solution for marine environments because of its anti-rust and wear additives, water shedding propensity, and ability to adhere well to metal surfaces.
Gear greases: including BioGrease OG, an open gear NLGI 1 lithium grease formulated of readily biodegradable natural and synthetic ester base oils and capable of handling heavy loads at slow speeds in wet environments.
How Can I Get bioblend Marine Products?
Interested in VGP compliant EALs, grease, hydraulic fluids, or oils? Have more questions about how and why BioBlend creates the best products for the marine industry? Just get in touch and our experts can help.
Contact BioBlend Today
Our experts are here to discuss your unique challenges for your particular industry and application. Contact us to find out how you can safely and successfully make the switch to our high-performing, bio-based grease products by completing the form below or calling 800-BIOBLND.
"*" indicates required fields