VGP Compliant Lubricants Without the Compromise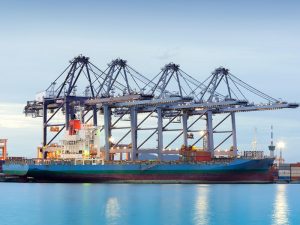 In 2013, the EPA issued its revised Vessel General Permit mandating the use of Environmentally Acceptable Lubricants (EALs) in all oil-to-water interfaces on merchant vessels 79 feet or longer. Since then, a major problem within the marine industry has been finding VGP compliant EALs effective enough to use regularly without harming ship equipment… or breaking the bank. Now, with the help of eSyn™, BioBlend has solved that problem.
BioBlend's proprietary eSyn process allows our experts to formulate readily biodegradable  EALs, oils, and greases that meet both the EPA's mandates AND your company's needs. Our biodegradable products aren't just Environmentally friendly and fully VGP compliant; they're also Effective, performing as well as or better than their conventional counterparts, and Economic, as they're priced competitively and last longer than conventional equivalents. When you use BioBlend's eSyn products, you get a VGP compliant EAL solution without the compromise. That's the eSyn difference.
What Does eSyn™ Mean for the Marine Industry?
Environmental Synergy, or eSyn, is BioBlend's proprietary development and testing approach to achieving Environmentally Responsible Lubrication without compromise. To achieve eSyn approval, a product must pass our "Three E" tests confirming their:
Environmental friendliness, Effectiveness, and Economical competitiveness.
On top of the Three Es, BioBlend's eSyn marine-approved products pass additional certifications based on the lubricant needs of the marine industry. eSyn allows BioBlend to formulate each of our VGP compliant marine products to meet the EPA's EAL requirements without sacrificing performance or cost. Our products are:
Environmental
All BioBlend marine products meet Meet EPA requirements to be classified as EALs per the 2013 Vessel General Permit (VGP), making them fully VGP compliant. They are also readily biodegradable, minimally or non-toxic, and confirmed water-safe for usage on boat equipment.
Effective
Each product category, from our VGP compliant lubricants to our VGP oils and EAL greases is rigorously tested to ensure they perform as effectively if not more effectively than any traditional petroleum-based or synthetic counterpart for all marine applications.
Economic
All of BioBlend's eSyn marine products are cost effective when compared with their conventional, non-biodegradable counterparts. They're also created from natural Ester and/or synthetic blends that last longer than petroleum and could actually reduce maintenance costs over time. Products such as the BioFlo HEES are specially formulated to help extend the lifespan and improve the performance in extreme temperatures and over extended periods of time.
Simply put, when you use BioBlend's eSyn marine products, you're getting an EAL, fluid, oil, or grease that not only complies with industry-standard and VGP mandates, but also works just as effectively and economically as any product in its class. You shouldn't have to compromise to make your marine business eco-friendly. With eSyn, you don't have to.
What eSyn™ Marine Products Does BioBlend Offer?
BioBlend has formulated EALs, fluids, oils, and greases for a wide range of marine applications. You can see our full marine brochure or complete product list for more detailed information and individual product specifications, or start by finding the category of product you're interested in below.
All of the following BioBlend's marine products are VGP compliant and environmentally-friendly, proven effective, and economically-priced. Categories of BioBlend marine products include:
How Can I Get eSyn™ Marine Products?
Interested in VGP compliant EALs, grease, hydraulic fluids, or oils? Have more questions about how and why eSyn creates the best products for the marine industry? Just get in touch and our experts can help. We look forward to helping your marine business achieve VGP compliance without compromise!