Environmental
To be considered eSyn approved, a product must either provide an environmentally-responsible alternative to an existing, more environmentally toxic mineral-based oil OR it must provide an original, environmentally-friendly solution to an industry need.
The specific environmental standards a product must pass to receive this approval depend on the product in question, but all eSyn products must fit most if not all of the following technical definitions:
Readily biodegradable The product must be proven to be more than 60% biodegradable within 28 days according to OECD 301B.
Not or non-bioaccumulative Product must be considered not potentially bioaccumulative by meeting one of following conditions: it has a molar mass greater than 800 g/mol or a molecular diameter greater than 1.5 nm; it has a log Kow less than 3 or greater than 7; or it has a measured BCF less than 100 L/Kg (European Commission standard, 2004).
Minimally or low toxic In accordance with EPA 800-R-11-002, the product must pass OECD 201 & 202 for acute toxicity, which is 100mg/L for hydraulic fluids and 1000mg/L for greases, two-stroke oils, & all other total loss lubricants.
Environmentally Acceptable Lubricant (EAL) Product must be a confirmed EAL by the standard of Appendix A of the 2013 VGP.
USDA Biopreferred The Product must conform to standards required to make it a USDA Biopreferred biobased product.
And more–see our eSyn product's data sheets to learn more about specific environmental standards our products conform to and exceed.
Effective
The product must meet or exceed the performance expectations of the potential user. The user must not compromise on quality performance when they make the switch to the eco-friendly product.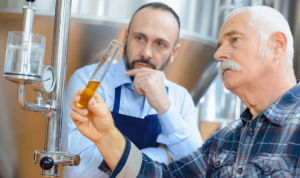 In fact, BioBlend's eSyn products typically exceed conventional products in each of the following areas:
Viscosity Index
Lubricity
High Polarity
Solvency
High Flash Point
High Dielectric Strength
When using an eSyn product under normal operating conditions, not only will you not notice a difference, but you may actually see performance improvements–all while helping the environment.
Economic
The product must be cost-competitive with the mineral-based products it's comparable to. BioBlend's eSyn-approved products meet all three of these criteria–something no mineral oil on the market today can claim.