Bio-Based Greases
BioBlend's bio-based grease products feature high performance in key areas of lubrication and are the environmentally friendly choice for projects in the field.
Bio-Based Grease Performance
You need grease that does its job and does it well. Your equipment and the success of your projects depend on how well your grease protects and lubricates. When you need a grease, you need to consider all the challenges presented by the application including (but not limited to) RPMs, environmental operating temperatures, heavy loads, heat, moisture levels, and direct water contact.
Bioblend formulates greases that not only face these challenges, but, according to STLE, bio-based greases provide a number of other advantages over traditional mineral-based oils including:
Higher Viscosity Index

 

– Base oil stability as operating temperatures change
Excellent lubricity

 

– Ability to maintain film strength at higher temperatures
Higher flash point

 

– Safer operations especially at higher temperatures
Polarity

 

– Provides a base level of natural resistance to water wash-out in wet conditions even before any additives are added.
You can count on BioBlend's bio-based greases to deliver superior performance when put to work! Whether your application is for agriculture, construction, oil & energy, mining, marine, or even food manufacturing, choose BioBlend to keep things moving smoothly!
Environmentally Acceptable Lubricants (EAL)
For any outdoor project, you have to consider the accidental or incidental release of lubricants into the environment which can negatively impact the ecosystem. In fact, many grease applicatons are designed for grease to be exposed, to leak, or to be purged during operation.
Bio-based greases from BioBlend use natural plant esters and select synthetic esters as their base oils. Therefore, they are readily biodegradable, and most are classified with the EPA as Environmentally Acceptable Lubricants (EALs). They are less toxic than mineral-based lubricants. Mineral-based greases are inherently biodegradable, not readily biodegradable. If exposed to the natural environment, mineral-based lubricants may take a long time to degrade to a point where they no longer have a significant negative effect on the environment. In fact, only 15-35% of inherently biodegradable (mineral-based) products will biodegrade in 28 days, whereas a readily-biodegradable bio-based lubricant — such as a BioBlend grease — will biodegrade 60-90% within the same timeframe.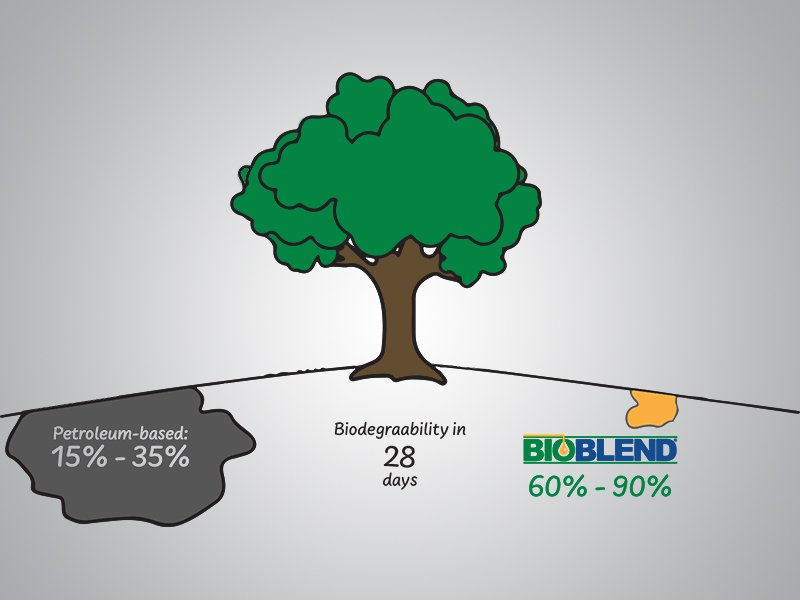 Explore BioBlend's Grease
Choose from any of the products below to discover the right grease solution for your needs.
Contact BioBlend Today
Our experts are here to discuss your unique challenges for your particular industry and application. Contact us to find out how you can safely and successfully make the switch to our high-performing, bio-based grease products by completing the form below or calling 800-BIOBLND.
"*" indicates required fields